This post is a little late as I've been travelling around for work and was pretty busy, but

who can forget a festive celebration like Arthur's Day?

Arthur Guinness has created a legacy with his stout and definitely is one of the best drinks in the world, so the more reason to celebrate his creation
Last year we managed to see the Guinness trailer going around different bars for Arthurs Day and

I have learnt to pour Guinness the right way which is the 2 pint pour method

. As for this year, it is back to the basics with an awesome celebration with Artists from around the world performing on that very day! Held at Sepang, Plenty of Guinness Lovers came together to watch acts such as

Five For Fighting, All American Rejects & The Wanted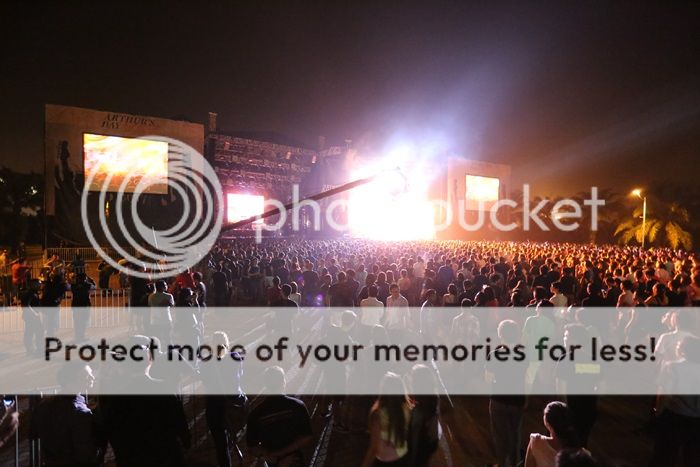 I managed to receive VIP passes for Arthur's Day and I arrived there late myself, as I was still caught up with work and was waiting for Eileen & Joanna to come over. but no worries to that, I still managed to reach in time for Five For Fighting! They brought back the classics and of course their most famous song, Superman.
We headed over to the VIP area where a nice free flow of beer was poured out for us. The only one thing regrettable is that we had to use plastic cups since it is at an outdoor area. The original Guinness Pint Glasses would have made it better *just saying
It then came time for

All American Rejects to come on stage!

I watched them at their last concert in 2009 for the DIGI Music Live and they have still kept their originality and their craziness at its maximum level. We could see everyone jumping to all the old and new hits from them
This GIF is taken with the Samsung S4 feature GIF Image. cool huh?
As

The Wanted

came out, half the crowd left.

I think it was a mistake for The Wanted to perform at Arthur's Day, as well, their fan base is mostly teenage - college girls which in general, don't appreciate Guinness. Or if the event was to be planned better, AAR should have taken the spotlight for the final performance.
All in All it was a great day to be partying the night out with Guinness, Just can't wait to see the lineup or what is gonna happen next year for Arthur's Day!
*photos were taken using the

Samsung Galaxy S3

and some were provided by the PR.